Skiing
Mid February is high season for skiing in Austria. Small familiy-run ski lifts can be reached within half an hour from the conference venue. The biggest ski resort south-east of the Alps (Koralpe) is about one hour from Graz. World-cup class ski resorts (Schladming) are a two-hours drive away from Graz. Bergfex.com has a good overview of all skiing resorts. Another option is to go cross-country skiing in the the nearby mountains.
On February 14, an external provider organizes a bus trip to a skiing resort. Please book early as there are limited seats available and it is really highest season for skiing in Austria. Details about this and other possibilities to spend time in the mountains can be found here. An English description of the organized skiing event can be found here.
Thermal Spas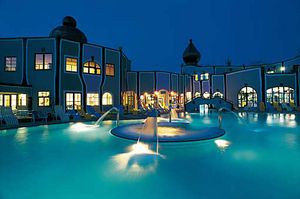 Another winter-time favorite activity in the Graz area are thermal spas. The region south-east of Graz is of volcanic origin with many hot springs that fuel large and relaxing outdoor thermal spas. They can be reached within 30 min to 1 hour from Graz. Most spas do also include a hotel on site. A good overview is provided here. Perhaps the most spectacular one is the thermal spa Rogner Bad Blumau which has been designed by the famous artist and architect Friedensreich Hundertwasser.
Thermal Spa Parktherme Bad Radkersburg
Main Track
Paper Registration
September 21, 2015 (extended)
Paper Submission
September 28, 2015 (extended)
Posters & Demos
Submission
December 8 AOE, 2015 (EXTENDED!)
Competition
Abstract Submission
October 7, 2015 (extended)